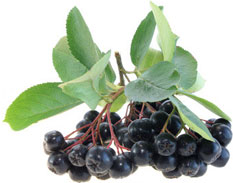 The chokeberries world
Welcome to Barbara and Tomasz Michalak's ecological plant nursery farm. For many years we have been cultivating ecological black chokeberry and producing high quality cuttings, including ecological ones. All of our acts are performed in harmony with nursery traditions. At the same time we are open to modern technologies and our methods are still being improved.
Our products
Chokeberries are one of the healthiest fruits out there, which explains the growing popularity of the bush. Although, for the plant to give a good amounts of fruits it has to be well cherished and farmed from the very beginning. In our offer you can find products appropriate for pope who simply like the chokeberry products but also for ones that would like to have their own bush in their garden. The chokeberry juice is made of the chokeberries that not only had had an optimal growth conditions but also has not been sprayed with any sort of artificial substances. At that, the same rules applies to our cuttings. What does it mean in practice is that while buying the juice, or investing in ecological cuttings, the client provides themselves with the health beneficial products.
Our offer
Our page contains broad information about cuttings and fruit plantation. The certificate that has been awarded to us is an affirmation of the quality and natural fertilizers usage. Also, the feedback concerning our farm, given from the pleased clients upon the country and abroad, is an evidence of our reliability and customers satisfaction. Our biggest concern is to please the clients.  Regardless of whether you buy cuttings, chokeberry juice or are looking for professional advice, we will use our best efforts to reach your expectations. The juice is void of food coloring and toxic substances. Moreover, cuttings are hand-made handled, which has a great impact on the future fruits. While plants are being cultivated, sprouts and roots are not being damaged, which tent to happen during farming by tools.  The positive outcome of those actions are the bushes that give many fruits. Depending on the needs, in our farm you can find young plants as well as the fully-matured ones, which are the ones that give fruits. We offer our help if any doubts about the future chokeberry cultivation . Get familiar with our deal, it is full of high-quality products for an affordable price. We can guarantee that the cuttings derived from our nursery-garden will bring bountiful crops if only planted and tended according to our recomendations.
Our goal? Client's satisfaction and knowledge sharing. Working with us is a guarantee of fulfillment.
---

View our offer:
Help in getting a subsidy from the European Union
Renting planters for planting chokeberry cuttings
Fruit concentrate; chokeberry; currant; apple – BIO and conventional

Contact us